With the rise of e-commerce, ensuring
a high-quality customer service is becoming a key challenge

for enterprises.
In diesem Zusammenhang kommt den Kontaktzentren eine zunehmend strategische Rolle zu.
Kontaktzentren sind ein erheblicher Kostenfaktor für Unternehmen - bis zu 7 % der Betriebskosten für ein CAC 40-Unternehmen.
Allerdings sind nur 8 % (Quelle: "Closing the delivery gap" - Bain) der Kunden der Meinung, dass sie einen qualitativ besseren Service erhalten, wenn sie ein Service-Center anrufen.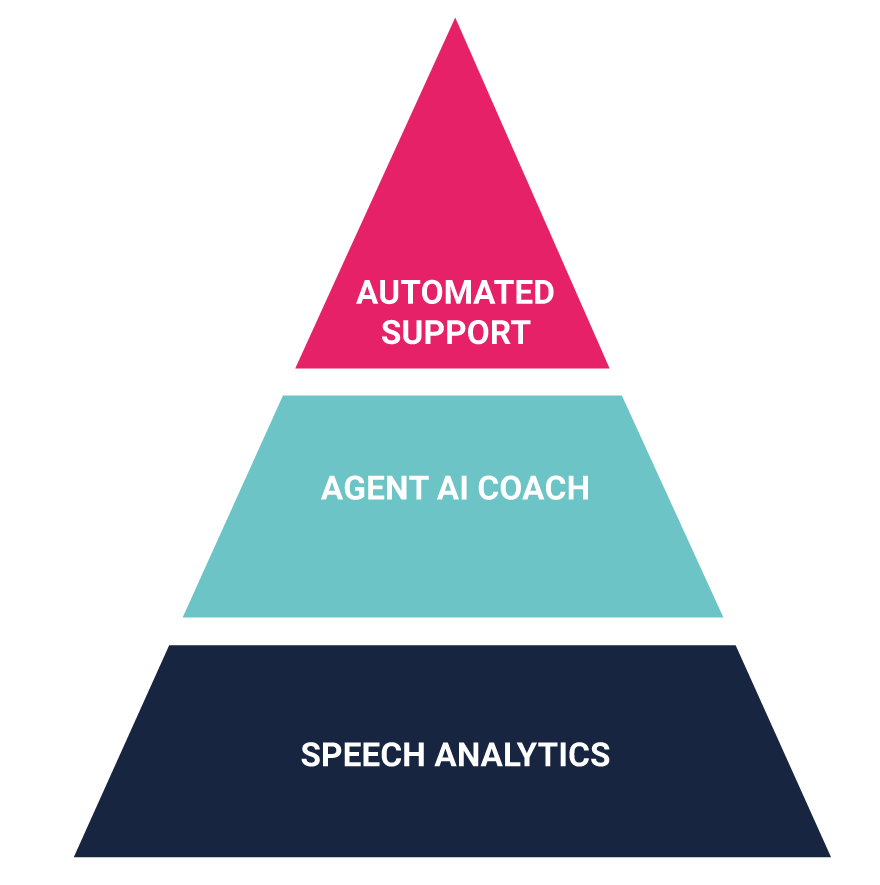 Artefact baut das Callcenter der Zukunft: 3 KI-gestützte Lösungen für 3 Vorteile
VERBESSERUNG DER KUNDENZUFRIEDENHEIT
Sicherstellung einer höheren Kundenzufriedenheit in der gesamten Callcenter-Kette
VERBESSERUNG DER SERVICEQUALITÄT
Coachen Sie jeden Ihrer Agenten mit personalisierten Erkenntnissen zur Verbesserung der Servicequalität
SENKUNG DER BETRIEBSKOSTEN
Wir arbeiten mit Ihnen zusammen, um geringwertige Anfragen zu automatisieren, damit Sie sich auf komplexere Aufgaben konzentrieren können.
Michel TOURNIÉ - Leiter für digitale und Datenprojekte, MAIF
Client Case: Speech Analytics solution with MAIF – INSURANCE COMPANY
"Artefact developed Natural Language Processing (NLP) algorithms to understand customer call topics. It helped us identify new selfcare functionalities to develop on the MAIF website. Thanks to this, we obtained good insights of what our customers really need through the analysis of their calls."
Die wichtigsten Vorteile:
– 1.3M calls (20%) calls identified as avoidable because they are low added-value requests for the agents.
– +15 new online features to be integrated in the selfcare roadmap that answer these low added value requests.
SPRACHANALYSE: Generieren Sie verwertbare Geschäftserkenntnisse aus Ihren Anrufaufzeichnungen
Wir helfen Ihnen bei der Analyse von Kunden- oder Agentengesprächen, um zu verstehen, warum Anrufe generiert werden. Anschließend empfehlen wir Prozesse und Strukturen, um diese zu minimieren. Was wir bieten:
Gründe für die Kontaktaufnahme: Wir verstehen, warum sich Kunden an Ihre Kontaktzentren wenden, und antizipieren ihre Bedürfnisse.
Customer Satisfaction: We measure customer satisfaction and identify and address the root causes of dissatisfaction to prevent it.
Überwachung der Qualität: Wir bewerten die Leistung der Agenten, um ihnen zu helfen, ihre Servicequalität zu verbessern.
Wert:
Avoid up to 20% of calls by addressing new customer needs with more than 15 new online features identified from customer call insights.
AI COACH: Helfen Sie Ihren Mitarbeitern in Echtzeit mit einem sprachbasierten Assistenten
Kundenanfrage Diagnose: Verringern Sie die Zeit, die Ihre Agenten benötigen, um Kundenanliegen zu identifizieren.
Skript-Walkthrough: Vergewissern Sie sich, dass der Agent das korrekte kontextabhängige Lösungsmuster befolgt.
Abrufen von Informationen: Automatische Anzeige der vom Kunden angeforderten Informationen.
Wert:
+10% First Call Resolution Rate (Durchschnitt für Artefact-Kunden).
Automatisierter Support: Automatisieren Sie den First-Level-Support und qualifizieren Sie komplexe Anfragen vor.
Qualify customer request: Replace the traditional IVR systems to welcome customers and qualify inbound requests.
Answer simple requests: Automate the 1st level of support for all low-value requests.
Route the request to the best available agent: Identify and route the more complex requests to the most appropriate agents.